I saw a post on a local moms Facebook page the other day about how families are having difficulty affording to feed their families with the prices of groceries nearly tripling from 2 years ago. I wanted to share a few tips our family has incorporated for years and even throughout the pandemic and with ongoing supply chain issues, have proven to be effective. I know this model doesn't work for everyone, but it does for us. I included a photo of what $150 of groceries looked like for us today. Along with our pantry items, this will feed our family quite a few good meals.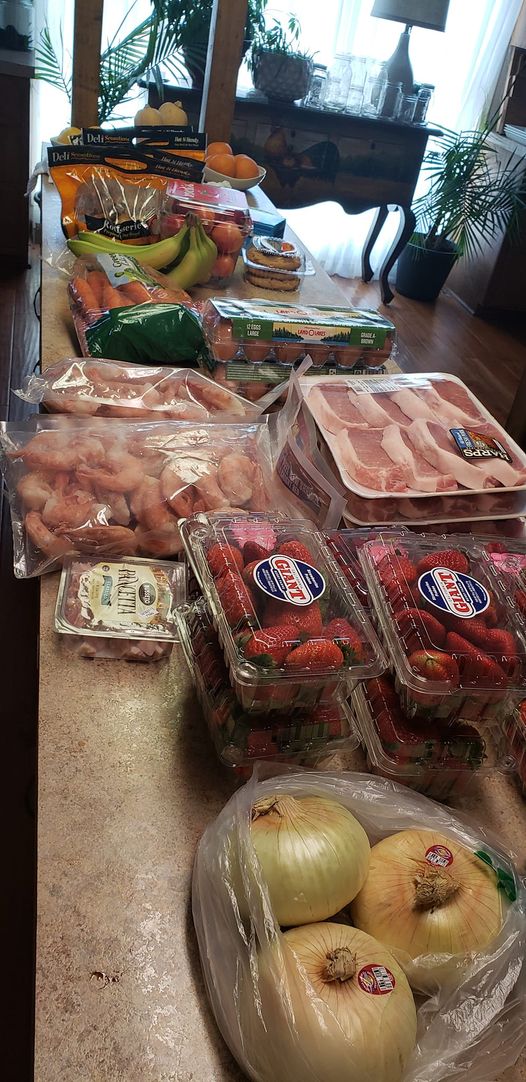 - 4 fully-cooked, roasted chickens each averaging 2-3 pounds
- 1 box freezer bags
- 3 # mini sweet apples
- 1 box cookies
- a big bundle of bananas
- 5# carrots
- 2 dozen brown eggs
- 6# large shrimp
- 24 center cut, thick pork chops
- pancetta
- Babybel cheese
- Laughing Cow cheese
- 6 pints raspberries
- 6# strawberries
- 3 large Vidalia onions
- 2 # asparagus
Here are the things that work for us.
1. Set a budget. We budget $50 per person per week or $200 per week for our family of 4. Set the money aside. Only use it on groceries, household goods or dining out. That amount includes hygiene, cleaning & laundry items as well. If you don't spend it all one week, leave it set aside for the next week or month.
2. Cook as many things as you can using raw ingredients (rice, pasta, veggies, meat).
3. Stock your pantry & freezer with items when they are on sale. Staple items such as dried & canned goods will not go bad if stored properly. And then don't forget to use the items. Example: When coffee goes from $10.98 to $6.98, I buy 4 because that's what we use in a month. That's $208 saved per year on a single item ($4/wk x 52 weeks). Imagine if we did this for everything we purchased!
4. Shop at the local grocery stores, making sure to review ads and purchase what is on sale. Did you also realize most of the local stores double coupons up to 50 cents, have valuable shopper clubs that offer specials & have lots of unadvertised sales? Save the trips to Walmart for the items you can't find elsewhere.
5. Don't be afraid to spend a little time in the kitchen. Strawberries were on sale for .98 cents a pound this week. I purchased 6 #. We sliced and froze 3 # for use in smoothies, dehydrated 2 # that will be added to inexpensive cornflakes along with sliced almonds to make a delicious breakfast for the kids at a fraction of the cost & we made strawberry shortcake with the last pound.
6. Always look at the unit price of items. Just because it's in a bigger pack doesn't mean it costs less. Break down prices into pounds, ounces & each units. It takes time, but I promise it's worth it. Walmart lists the unit price of the item on the tag and also on their website.
7. Don't be afraid to try new brands that might be more cost-effective. I am pretty brand loyal but have found some phenomenal products that save us money and are even superior to what we used before.
8. Use coupons on things like hygiene & cleaning products. The website coupons.com has free, printable coupons. It takes about a minute to print out applicable coupons before heading to the store.
9. Plan your menus each week. Yes, breakfast...lunch....dinner. Even if you only drink coffee for breakfast, plan it out because it involves ingredients. Don't be afraid to pack your lunch and it's 100% ok that you aren't a master chef. Cereal for breakfast is fine. When planning your menu, shop your pantry & freezer first, then add items to the menu based off of sales or inexpensive ingredients.
10. Keep your shopping trips minimal. We shop at Big Box about once every quarter to get things we can't find elsewhere. We stop at the store about once a week for fresh produce, bread & milk. I scan the ads to see if there are any stores with items at rock bottom prices and if so, I may stop to pick up those items. I take a list and don't get too sidetracked.
11. Don't shop hungry. You will buy more than you need.
12. Don't be afraid to spend time learning any of the above methods. We used to spend over $2,000 per month on a family of 5. We now spend approximately $600-$800. Saving $1,000 per month is a big deal. If we can do it, you can too.
Thanks to local mom Carrie Richter for graciously taking the time to share her money-saving grocery tips with us. You can find more tips from her on how to stretch those hard-earned dollars, including recipes, garden tips, preserving, shopping tips, meal prep, coupons and more by joining her Facebook group Mama Loves You here.