One of my favorite traditions as a child was going to look at Christmas lights. My mom would load us all into the minivan and we'd drive around with my Gran looking at all the wonderful light displays. To be honest, as an adult, I still love Christmas lights just as much, and now I use having my kids as a great motivation to go out & see the ones Northwest Arkansas has to offer. :)
This list is a compilation of houses I've been to in past years, places I've recently seen and reader-recommended locations. If you know of any awesome light displays in the area that are worth driving to, please email me at Karaa@macaronikid.com with the details :)
Enjoy the lights!
Here is a map to navigate to them!

Fayetteville Square- Lights of the Ozarks- Over 500,000 lights decorate the historic Fayetteville, AR square. There is normally free parking in the Fayetteville Town Center parking garage. You may get out and walk around the square and enjoy several vendors, including coffee and cocoa vendors. This 20-year tradition continues nightly from 5-11 PM until Dec 31. Santa will be on-site for free photos on the following dates:
Santa will be in Downtown Fayetteville on the following dates for you to meet and snap photos with during Lights of the Ozarks! There is no cost to meet or take photos with Santa.

Friday, November 18 (Lighting Night): 5:00-9:00 pm
Friday, December 9: 5:00-8:00pm
Saturday, December 10: 6:00-9:00pm
Sunday, December 11: 3:00-6:00pm
Friday, December 16: 5:00-8:00pm
Saturday, December 17: 6:00-9:00pm
Sunday, December 18: 3:00-6:00pm

Bentonville Square- Winter Wonderland- Thousands of lights on nightly through Dec 31. Gorgeous displays you may drive by and see, or you might get out and walk around.Friends of Bentonville Parks and Recreation string up more than 35 miles of lights to transform Bentonville Square into a twinkling paradise.


Dye Family Christmas- Cloverdale Lights- Located at 10537 Oak Tree Circle in Rogers, this family light show is sequenced to music and uses newer technology lighting. Tune in to 91.7 FM for the music. Lights are on 5:30-11:30 PM nightly. We realize we are a little off the beaten path but in the event you weren't aware, the light show is animated lights, called pixels, that is sequenced to music broadcast over 91.9 fm. It is a loop right at or slightly over an hour before starting over again. We do also have a small shed lit up to the side of the display with candy canes and bibles that are free to anyone. Hot cocoa on the weekends. There is also a sleigh scene for pictures if you wish. Merry Christmas from the Dye Family.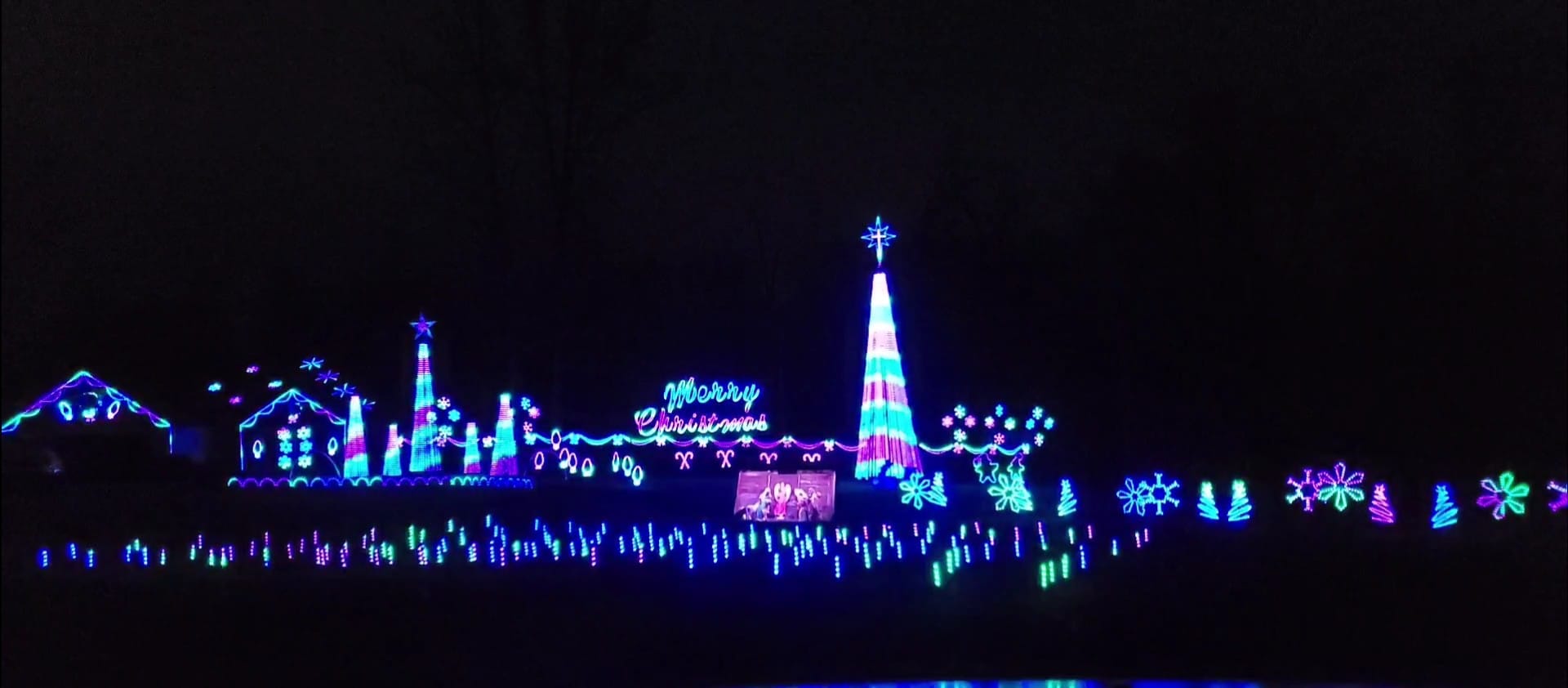 McKim Family Christmas Lights- Located at 3506 Hamm in Springdale. Lights are on Sunday-Thursday 5:30 pm-9:00 pm, Friday-Saturday 5:30-10:00 Dec 4 -Jan. 01. Tune to FM 91.1 to hear the music.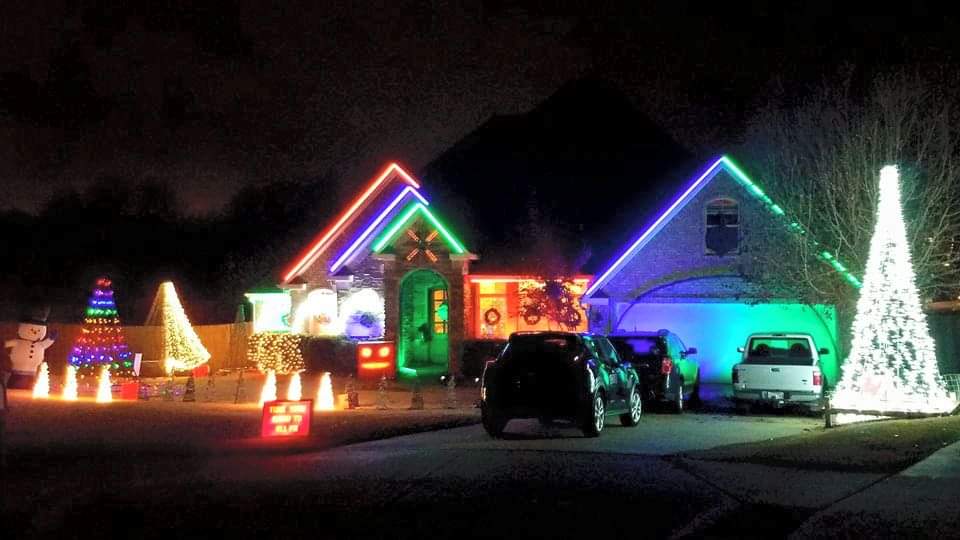 Lights on Driftwood- 326 Driftwood Drive in Farmington. over 70,000 lights all synced to music. Turn your radio to 101.5 FM for just roll your windows down to hear the music. Drive around this neighborhood (Twin Falls) because there are many decorated homes with lights and inflatables! We're excited to again this year to be collecting donations this year for the Children's Safety Center of Washington County. Be on the lookout for our donation bucket under the mailbox or Scan our QR code posted across the street.
The Children's Safety Center empowers children to overcome abuse and begin to trust, hope, and heal. They provide free, immediate, direct services to child abuse victims in Washington County. Since opening in 1997, the CSC has provided services to over 12,000 child abuse victims.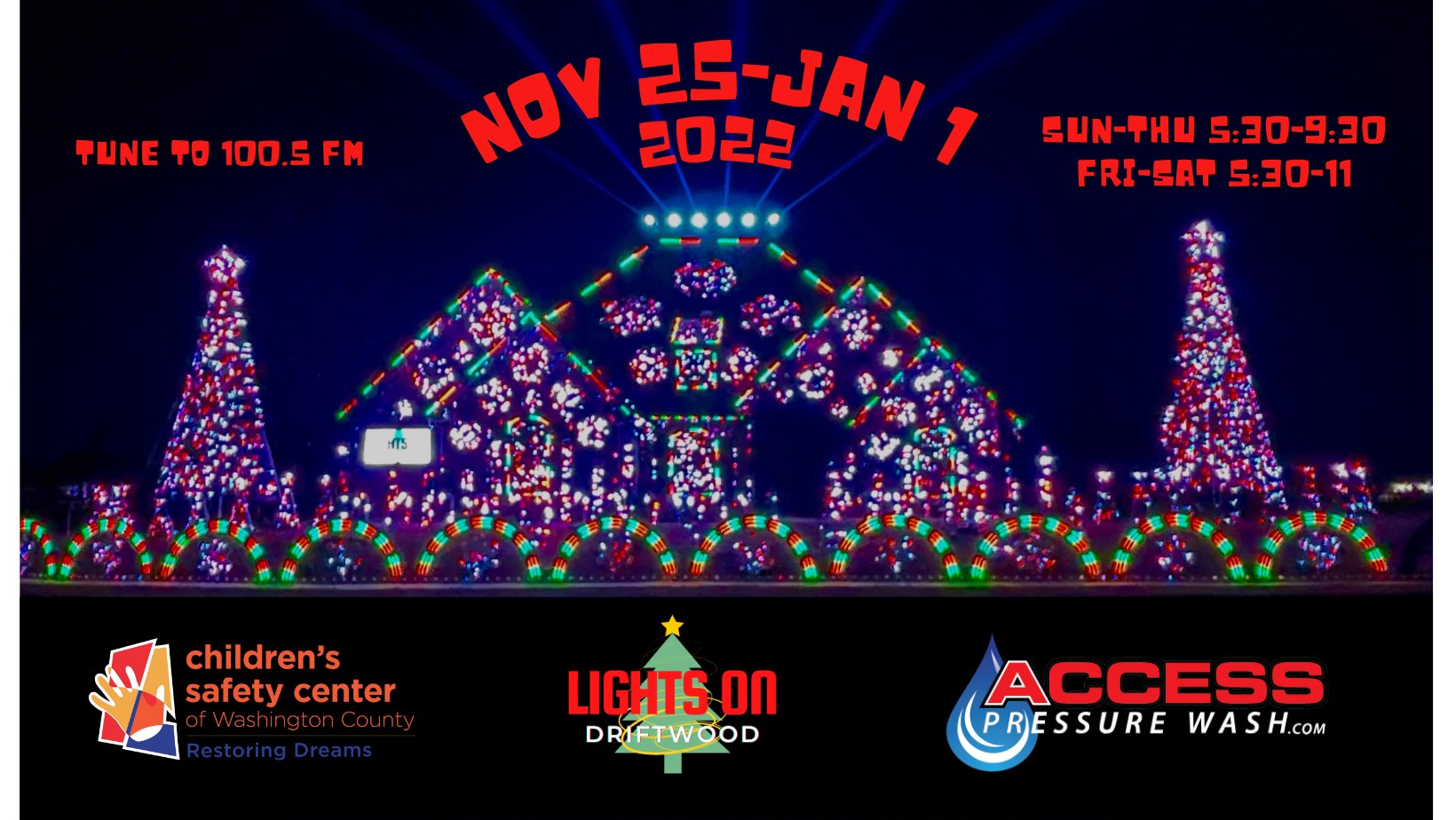 Centerton has a group for Christmas light displays here.
Morrison Manor in Pea Ridge- 1965 Collins Drive in Pea Ridge AR- Has over 10,000 lights, Deer, Christmas yard decorations, 2 8ft Nutcrackers, a projector playing Santa Claus walking around in one of our front windows, (so the kids can see him), a melted Frosty the Snowman, and If you tune your radio into 91.7 you can hear the music that we play to the lights every night!
Lights to music EVERY NIGHT until January 2nd Mon-Thurs 5 pm-9 pm, Friday-Sunday 5 pm-10 pm... And after the Music Show, we turn on ALL THE LIGHTS for a traditional Christmas Light Display! (SHOWN IN THE PICTURE)
We are also on Centerton AR Centerton Trail of Lights Map and Tacky Lights Map!!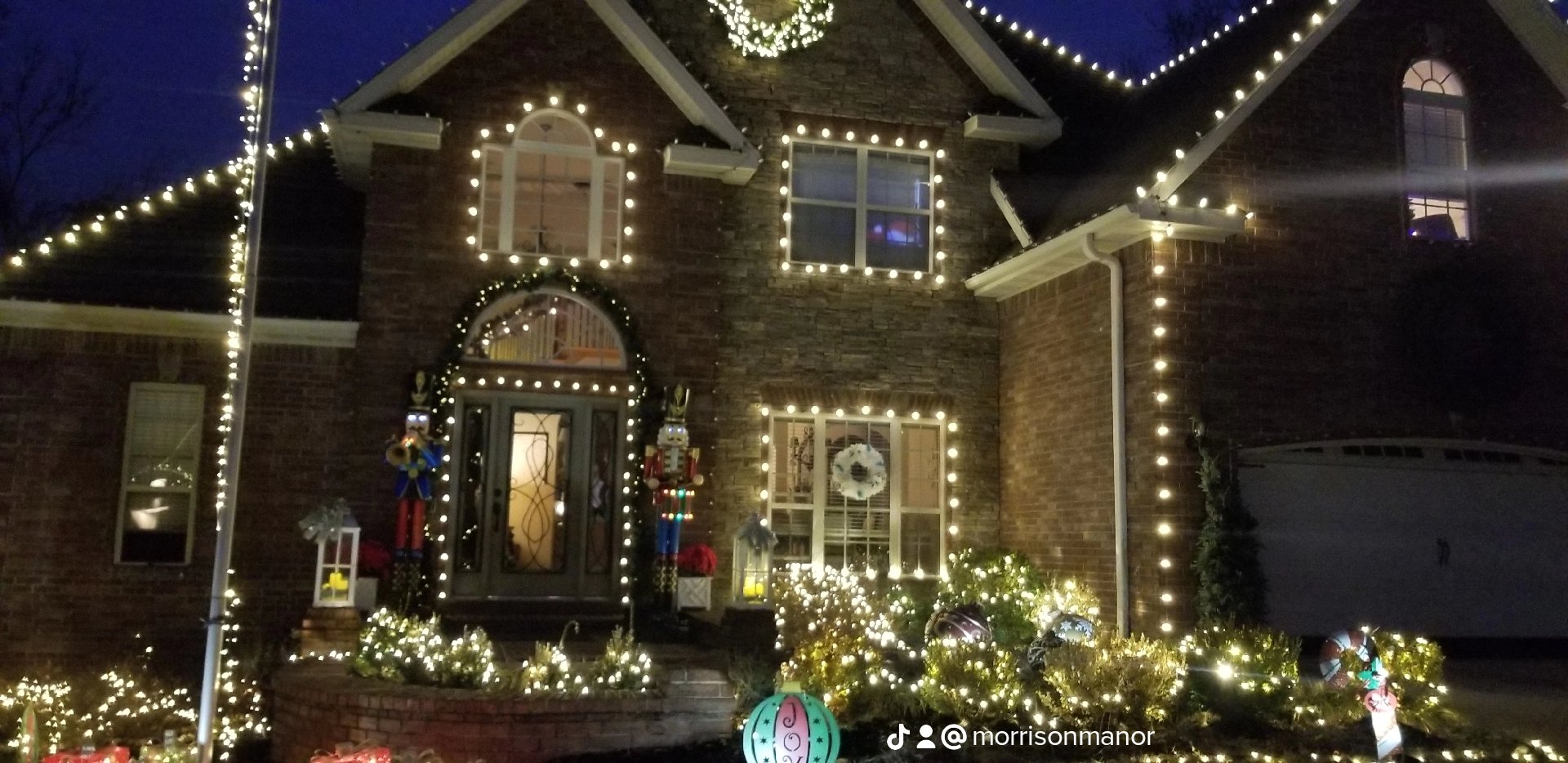 Hanover neighborhood in Bentonville- Use GPS to Somerset Dr in Bentonville- lots of decorated homes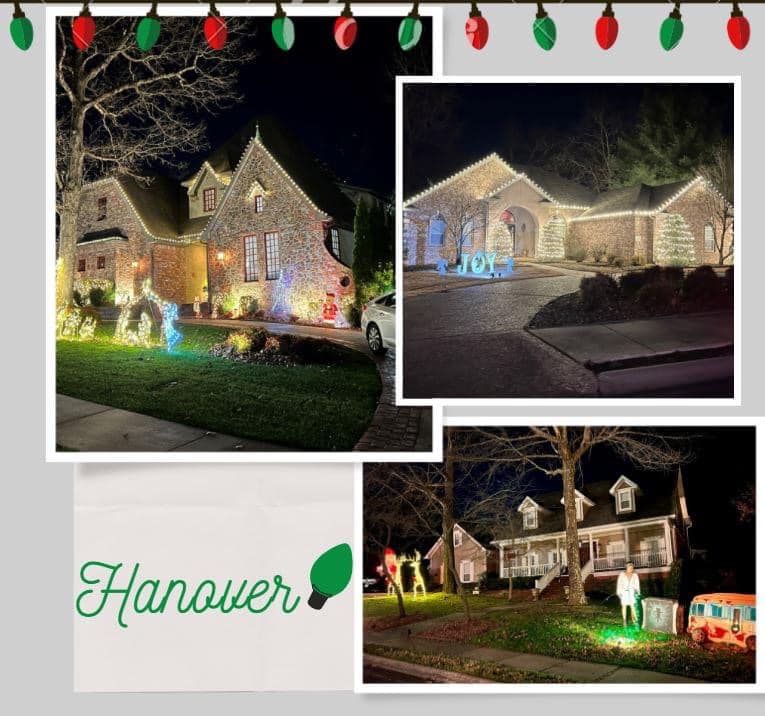 Prairie Grove-
Several homes on N. Neal St have inflatables and lights.
Sundowner subdivision, including Major Stone and Captain Hopkins
Lincoln-
142 West South St
Know of one worth driving to that I missed? Email Kara at karaa@macaronikid.com.
Macaroni Kid is a free weekly e-mail newsletter of local kid-friendly events. Sign up HERE and never miss another fun family event in Northwest Arkansas!
Macaroni Kid is a FREE resource for families, supported by local business sponsors such as these: