SOAR NWA Brought to You by Sam's Furniture
Open Avenues will host its 4th annual SOAR NWA event on Fri Aug 18 and Sat Aug 19, 2023 in a new location this year, the Benton County Fairgrounds in Bentonville, Arkansas. This outdoor, open-air event, brought to you by Sam's Furniture is a family-friendly festival with something for everyone.
With a little something for everyone, the event offers a variety of hot air balloon activities (weather permitting), a kid's zone, beer garden, live music, car exhibit, and various aeronautics activities.
On Friday, events begin at 5:00pm, and on Saturday, the fun begins at noon and continues throughout the day.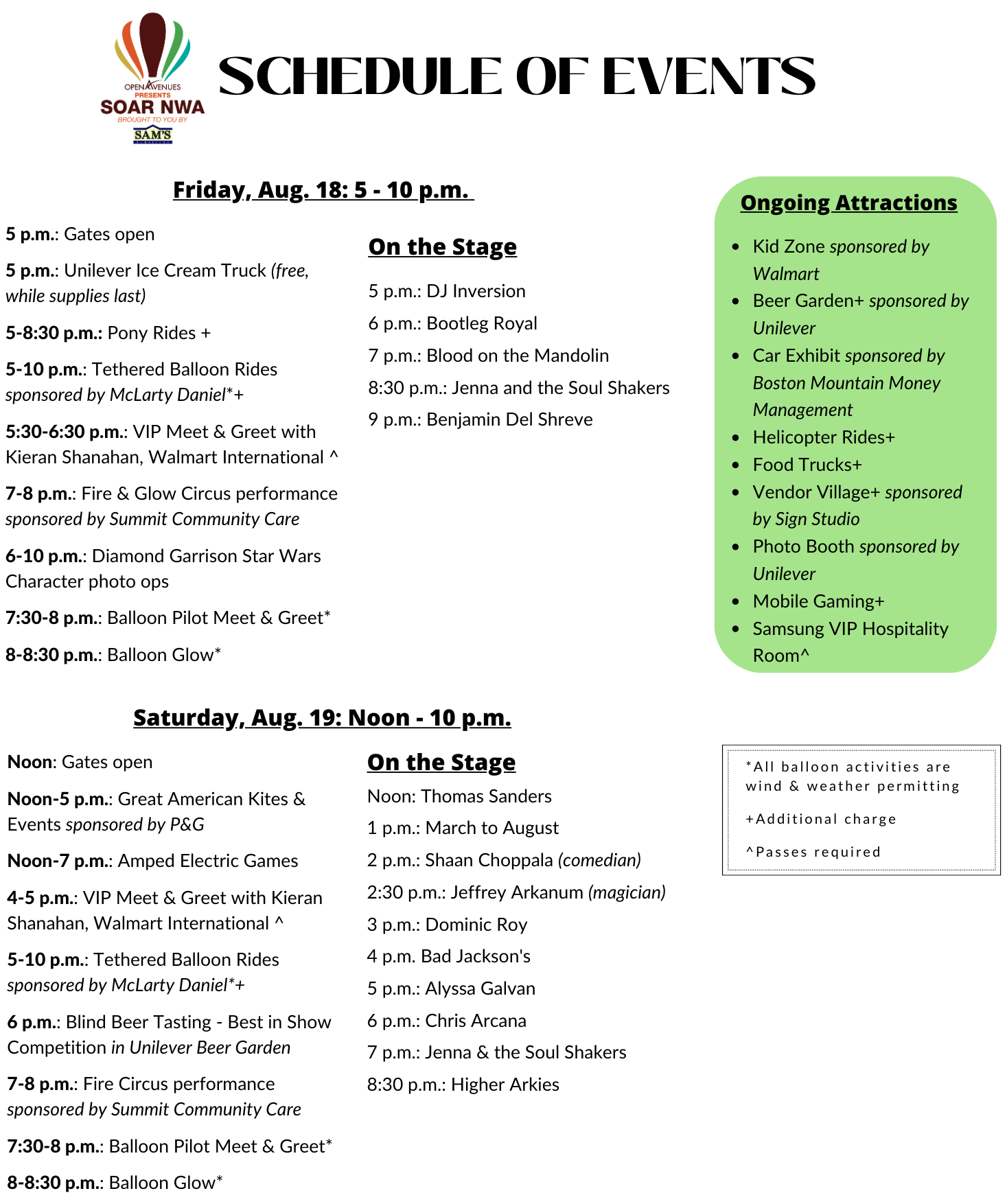 This year the event is over the course of 2 days, to allow more time for balloon viewing
Please note: all hot air balloon activities are weather permitting.
"We're so excited to be able to bring this unique event back to Northwest Arkansas," said Kelly Sampson, Development Director at Open Avenues. "In addition to the amazing fun it brings for attendees, it's an important fundraiser for Open Avenues, raising money to allow us to provide employment opportunities for people with disabilities."
TWO-DAY TICKETS are $25 for adults in advance, (price at the gate is $30), $8 for kids ages 3-10 (price at the gate for kids $10), and free for 2 & under. *ADMISSION FOR BOTH FRIDAY & SATURDAY.
ONE-DAY TICKETS* are $15 for adults in advance, $25 at the gate, $5 for kids ages 3-10 in advance, $10 at the gate for free for ages 2 & under
Hot air balloon and aeronautics rides, as well as various other activities, have additional costs. Learn more, buy tickets and register to volunteer at soarnwa.com. Open Avenues provides life and job skills training, on-site employment, job placement, and coaching services, as well as transportation. Through the dignity of work, program participants gain a sense of belonging and purpose as they develop their skills and earn a paycheck. Learn more about Open Avenues at openavenues.org.