This summer is very different for Northwest Arkansas families due to COVID precautions. Many of our favorite family events have been canceled and long-held traditions will have to be postponed until (hopefully) next year. While there are a plethora of online activities and events to do, sometimes you just need to get out of the house! Last week I was so inspired by the Sprayetteville Street Art event that I thought it would be fun to create a guide to some of the great outdoor art that can be found all over Northwest Arkansas.
Please note: Every family situation is different and while I am posting events that are happening, I encourage each family to consider risks and what they feel comfortable with before deciding whether or not to attend.
If you know of an outdoor mural that I have missed, please send it to KaraA@macaronikid.com. Click the title of each piece of art to link to an article with more information about that piece. It will also give you an address and a GPS map.
Enjoy this info and want to find out about other family-friendly events in Northwest Arkansas? Subscribe to one of our free weekly e-mails of kid-friendly events in Northwest Arkansas. We love connecting families with all the great family fun in our area! You can sign up at https://fayetteville.macaronikid.com or https://rogers-bentonville.macaronikid.com.
Fayetteville
This fun interactive map can be found on the Sprayetteville Street Art website. It will take you to all the locations of the different murals created during the event. You can even scan a QR code at each mural location to enter for a chance to win prizes.
The city of Fayetteville has also created this comprehensive map of public art to be found throughout the city. There are many, many murals included here that your family can hunt for!
One of my favorites is the Enjoy Local mural created by Fayetteville artist Jason Jones. This mural is a great photo op and can be found at the Fayetteville square in the courtyard adjacent to the World Peace Fountain.
A few years ago the Fayetteville Police Department encouraged the painting of murals on traffic boxes to deter graffiti, and now you can drive up & down College Ave and enjoy some beautiful artwork on the traffic boxes. The mural shown here can be found near 915 N College in Fayetteville.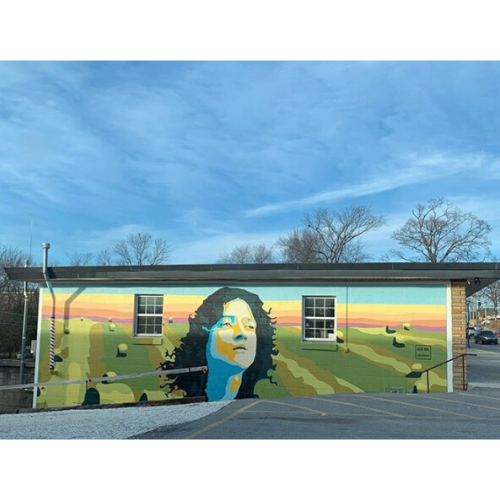 This amazing mural portraying the life and times of South Fayetteville is painted on the exterior walls of the handball court at Walker Park in Fayetteville. You can click here for a key to the historical figures depicted in the mural. (Be sure and check this out - it's really interesting!). Walker Park is located at 10 W 15th St in Fayetteville.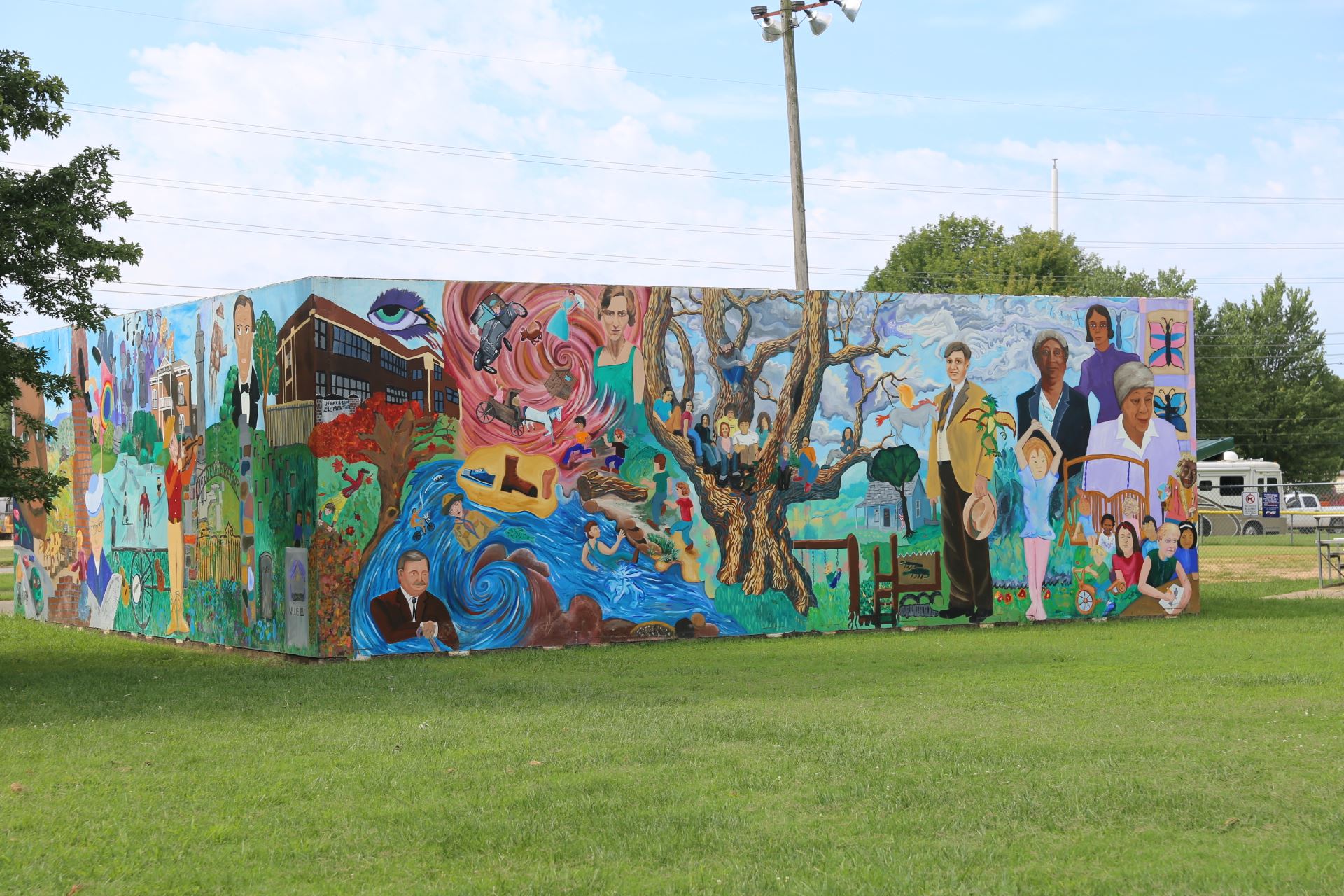 Springdale
The Springdale Aquatic Center is home to a scene of colorful aquatic life depicted by artist Emily Chase.
Downtown Springdale has a Western mural that would make a perfect photo shoot location for your little cowboy or cowgirl:

The Arts Center of the Ozarks at 214 S Main St, Springdale, is home to 3 fun murals, including this large star mural that my kids loved!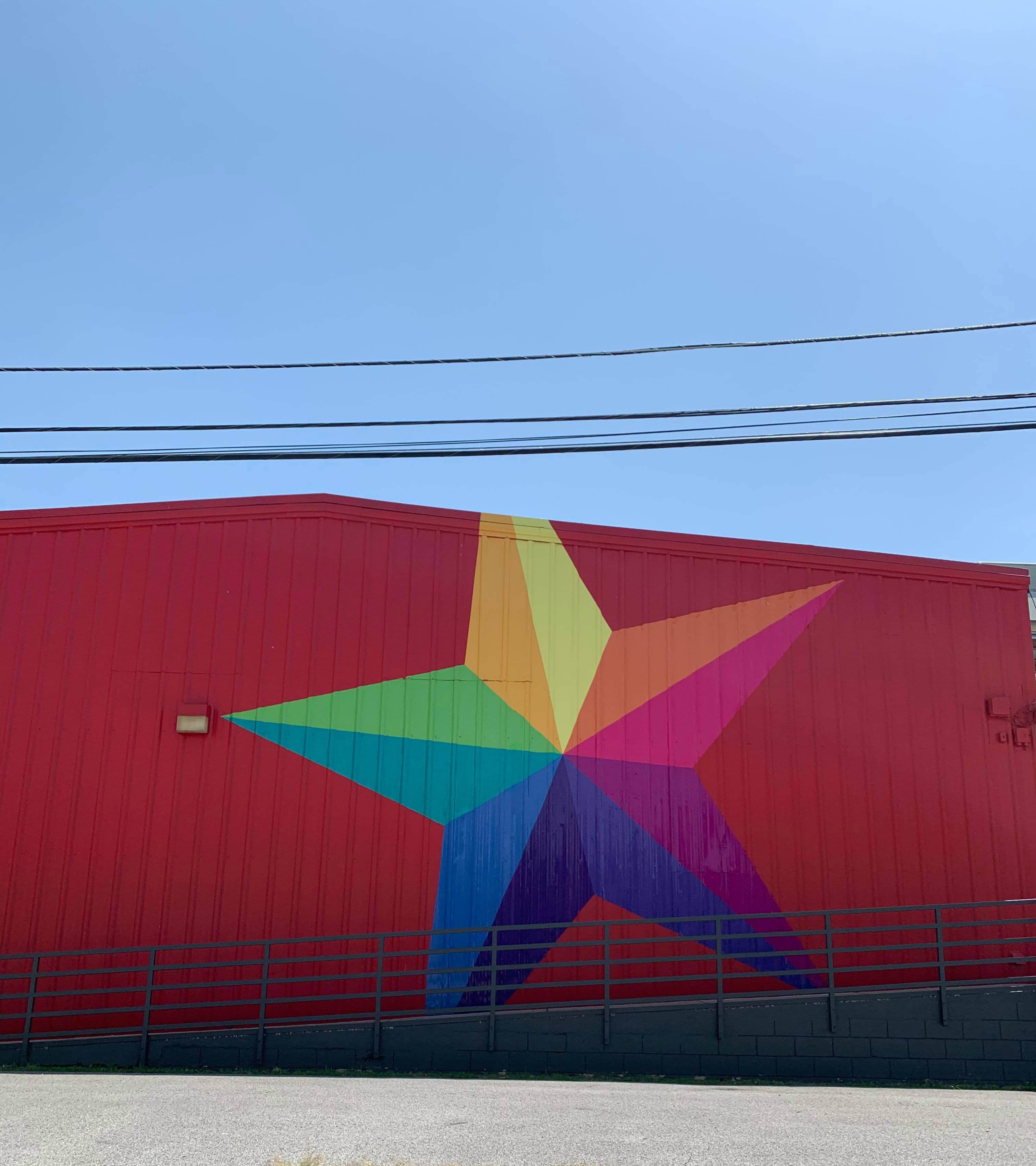 Another favorite is the monarch butterfly mural on the Springdale Airport Tower at 705 Airport Avenue in Springdale. This mural is part of the Migrating Mural project with more locations in Miami and Orlando, Fla., created by artists will over a three-year period along the butterflies' migrating paths between Mexico and Canada.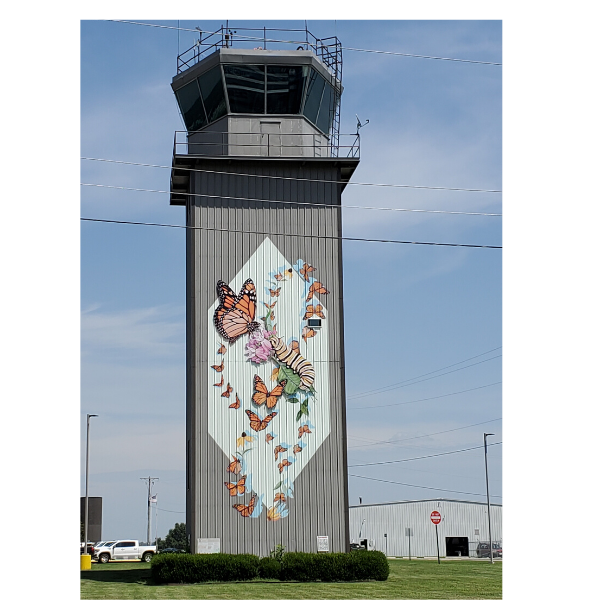 When driving around downtown Springdale, we also found this awesome mural at the Springdale Groove Skate Shop at 417 E Emma, Springdale. My girls and their friends got out to take some fun photos in front of this place.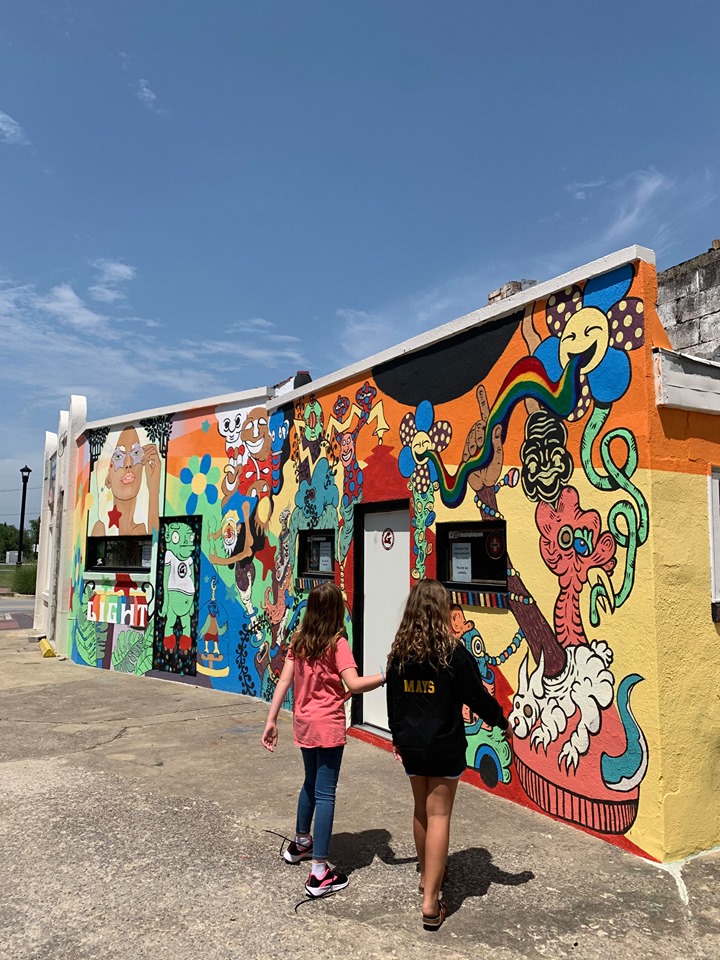 Rogers
Bleu Girl was created for the Urban Bleu Hair Salon at 113 W. Elm St.
There are several murals painted on the train cars at the Railyard Bike Park at 299 E. Cherry St.
One of the most powerful murals in Northwest Arkansas is the Rosa Parks 1955 mural recently painted by artist Samuel Hale, which you can find downtown Rogers at the corner of W. Walnut and Arkansas Street: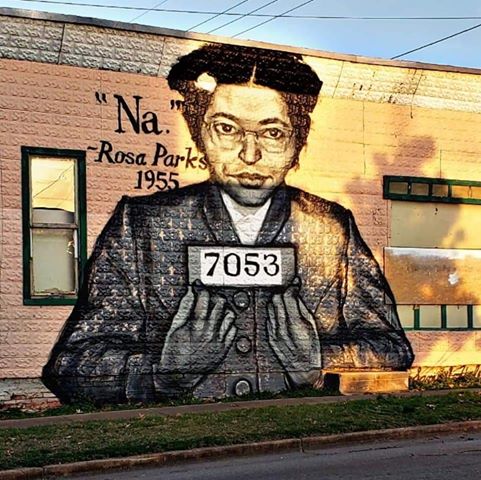 Bentonville
There are 24 pieces of outdoor art included on the city of Bentonville's Map of Public Art which was just updated in June 2020. One of our favorites is Big Blue, the giant blue octopus mural painted by artist Jason Jones in Bentonville.
Here's a really cool mural on 8th Street in Bentonville near Yeyo's. (Photo Credit Allison Deere):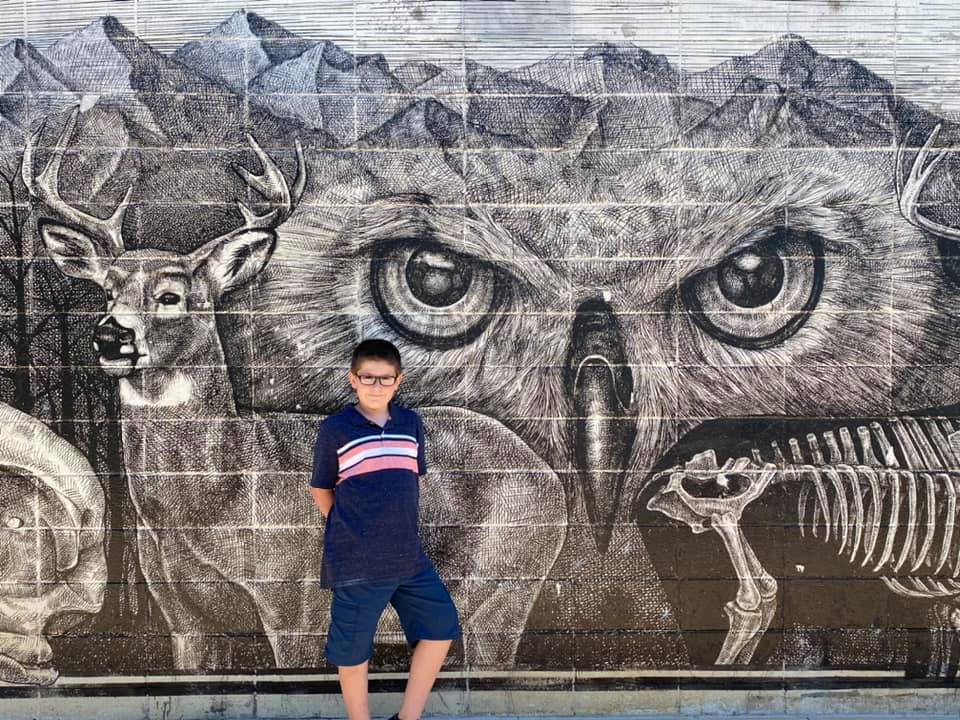 Eureka Springs
In terms of public art, this small, Victorian town has over 150 works of art alone! This article shares some of the more well-known pieces.
Siloam Springs
Siloam Springs has several murals around town. Click here for a map of them all, provided by Main Street Siloam Springs.
https://forecastpublicart.org/yatika-fields-creates-memorial-park-mural-for-city-of-siloam-springs/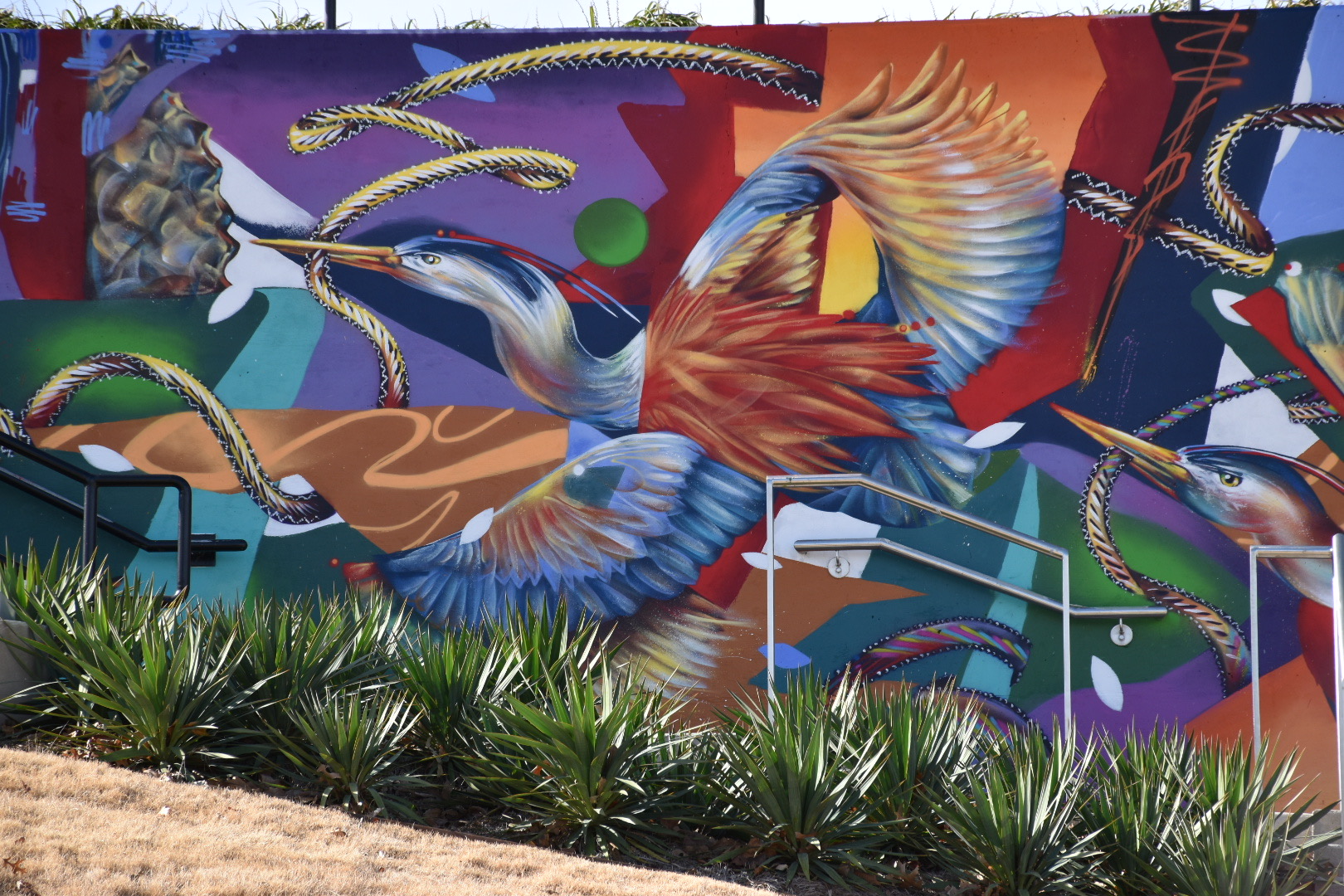 Prairie Grove
You can find this beautiful Coca-Cola mural on Mock Street in Prairie Grove. It is located on the corner of E. Buchanan and N. Mock on the side of Southern Mercantile.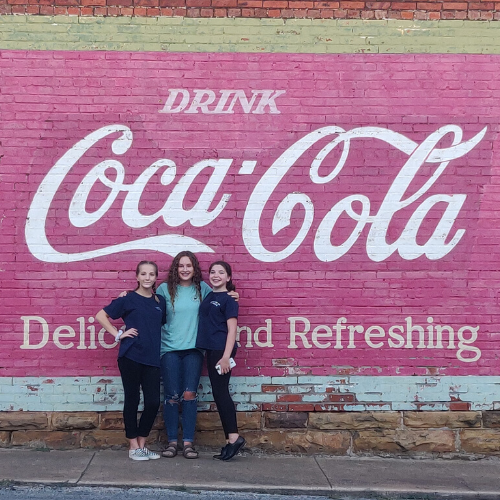 Additional Resources:
https://onlyinark.com/culture/art-across-northwest-arkansas/
https://northwestarkansas.org/blog/public-art-in-nwa-reviving-the-ordinary/
https://www.nwaonline.com/news/2019/aug/04/murals-worth-the-money-northwest-arkans/
Get out with your kids and drive or walk around looking for murals. This article only includes some of the many works of art around Northwest Arkansas and they cost nothing to see. Teens and adults will enjoy these spots as great Instagram photo backdrops.
Thanks to Macaroni Kid Rogers-Bentonville sponsors Amber Latimer, Realtor, Northwest Orthodontics and Goldfish Swim School for sponsoring this free guide.